About Us
Hope in a Suitcase is a non-profit organisation run entirely by passionate and dedicated volunteers and through donations of new items from the community, and the generosity of groups and corporations. Since its beginning in 2018, the charity has grown to be able to provide suitcases for children going into foster care or out-of-home care, throughout NSW, Queensland, Victoria and Tasmania.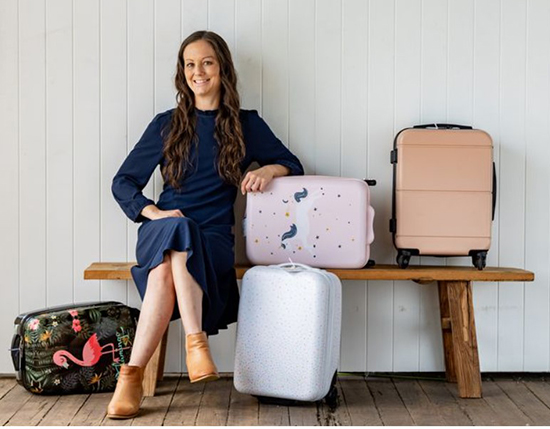 From the Founder – Rachael Clancy
Every child, every day, no matter what, deserves to feel loved, safe, and hopeful.
As a child I grew up with my parents being Foster Carers, and now I've followed in their footsteps becoming a Foster Carer myself. One thing that has stood out to me over the 19 years of seeing children come in and out of foster care, is the familiar 'plastic bags' and 'stripe bags' that these kids are known to carry their belongings around in. A child will often enter foster care with only a plastic bag of belongings or less, and these bags are then dragged around with them to each placement, and sadly for many kids, they will move multiple times.
After thinking about this continuously, I thought to myself, surely something can be done. These children matter, these children are loved, and these children are just as worthy as any of us. And 100%, they, their belongings, and their lives are worth more than a plastic bag. These kids should be able to pack their lives into their very own suitcase with pride and a sense of hope. Hence the creation of 'Hope in a Suitcase'.
The aim is to provide children across Australia, entering foster care or out-of-home care, something to call their own. To send them a message that they are important and cared for by our community. To encourage self-care by providing new essential items such as a toothbrush, toiletries, hairbrush, underwear and sanitary items for the older girls. A pair of pyjamas and a change of clothes. A teddy to cuddle. A journal or colouring in book and pencils to encourage creativity, and a toy to provide a distraction away from their turmoil.
The effects of 'Hope in a Suitcase' go beyond the direct impact of the resources they provide. It's empowering and makes room for positive change within our community in a way that nothing else can.
Children with a strong sense of self-worth feel competent to cope with the basic challenges of life and feel worthy of success and happiness. It gives them a solid foundation for their learning and development. It is empowering and makes room for positive change in a way nothing else can.
Let's ensure every child in the foster care system knows they're loved and that they belong to a family and a community that values them.
Let's break the so-called typical image of a foster child. Let's make them feel WORTHY, LOVED, AND HOPEFUL.
Let's move from a plastic bag of embarrassment, hurt, shame, fear, and insecurity.
To a suitcase of HOPE